Qualified Leader
Kyle earned his BBA in Finance from Baylor University. After graduation, he went to work for Lockheed Martin on a NASA contract and couple years later, attended South Texas College of Law in Houston where he graduated in the top 5% of his class.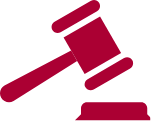 Top-Rated
Attorney
Kyle is a practicing business and commercial litigation lawyer with Winstead PC and is an equity shareholder in Winstead's Business Litigation, Energy, and Financial Services Litigation Practice Groups.
Proud Christian
Family Man
Kyle is a man of faith and has remained actively involved in his church and Bible study fellowship. He and his wife Sarah have been married for 21 years and together they are raising three beautiful daughters, Erin, Brooke, and Kameron. He is fighting to preserve The Woodlands for them.